Online and Mobile Ordering for Restaurants and Retail
Allow your customers to place orders online or directly from their phone with no e-commerce involved. With the ability to load money on their e-wallet, pay by credit card and earn rewards for every purchase, you can continue servicing your customers during these challenging times. Want to learn more? Click the button below.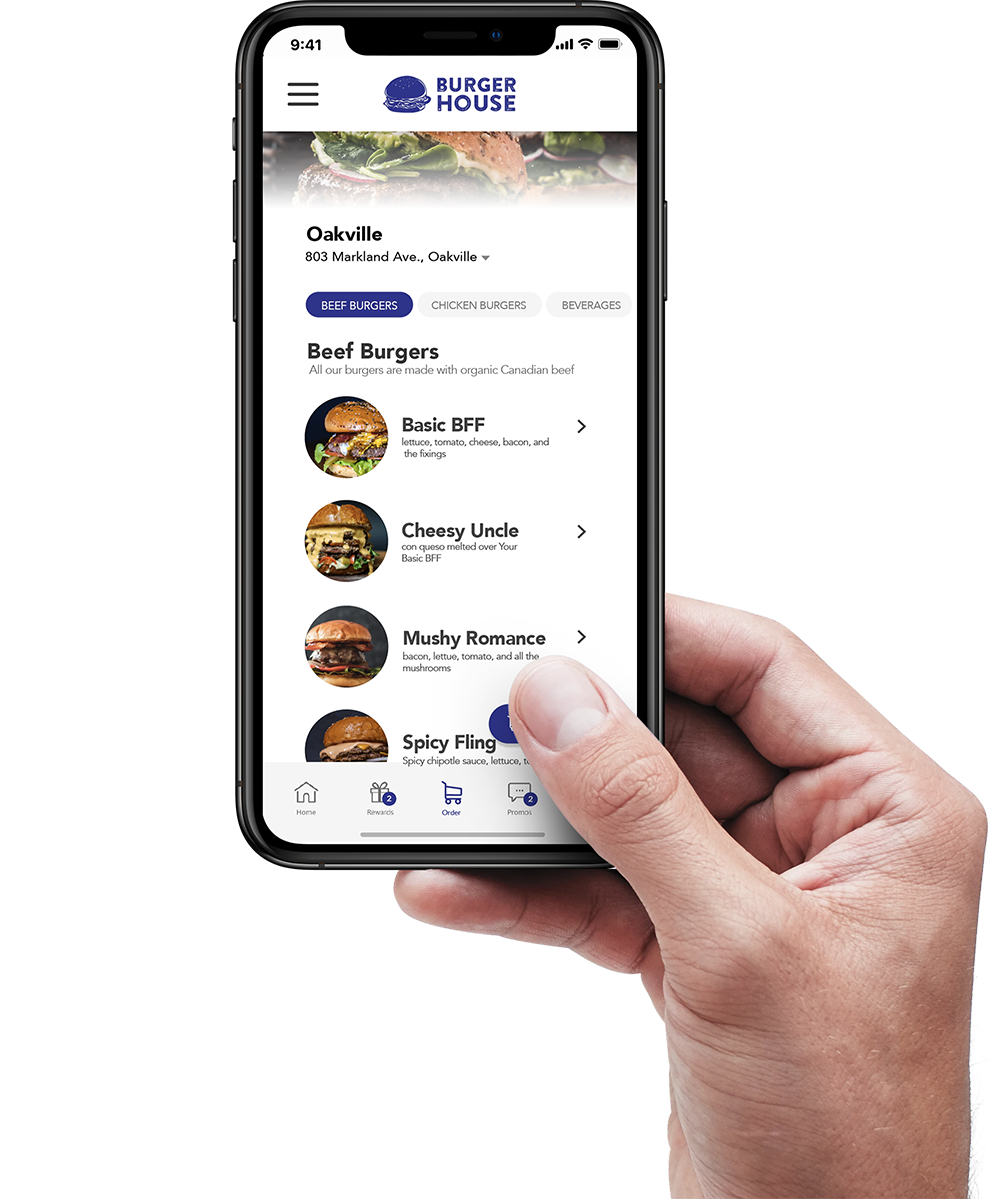 Trusted by thousands of businesses such as:

Here's what you get:
In the world of cutthroat competition, your customer loyalty is the top priority. The easiest and most cost effective way to build that loyalty is through your own Loyalty Program. TapMango provides you with all the tools you need to run a turn-key loyalty program on par with large retailers. And the setup only takes 30 minutes!  Here's everything you get with TapMango.

Marketing Portal
Manage your campaigns, customers and more through our easy to use back-end.
Customer Facing Tablet
Provides an amazing customer experience that your competitors will be jealous of
Mobile App
Your own branded mobile app. Customers can keep track of their points, offers and deals.
Branded Keytags
Branded tags that double as gift cards.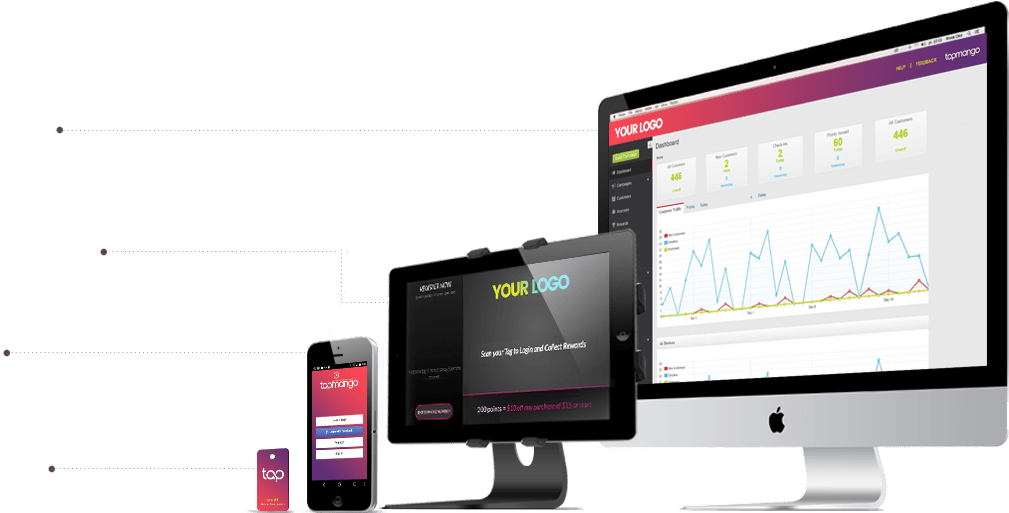 Partnerships and Integrations
TapMango's fully automated POS integration lets you start converting sales transactions into loyal customers. TapMango seamlessly integrates with all the major POS systems including Toast, Vend, Mindbody, Clover etc. and has partnered with many industry leading companies such as DoorDash and Square. TapMango can also work side-by-side with any other POS, and we can help get you up and running in minutes.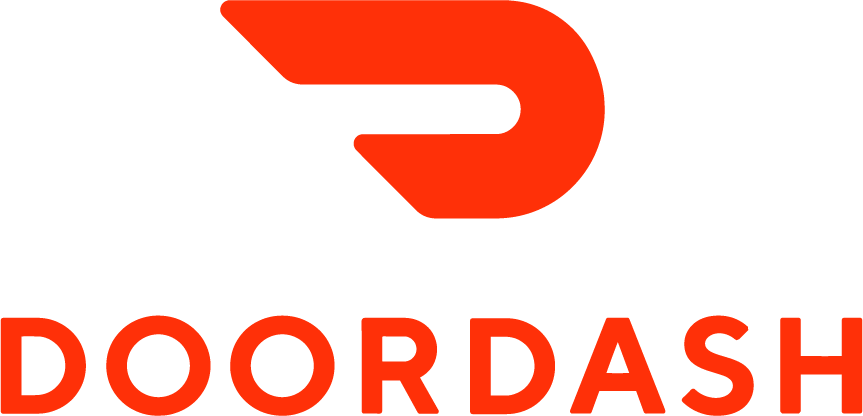 Marketing Portal
Manage your campaigns, customers and more through our easy to use back-end.
Customer Facing Tablet
Double as admin panel when flipped.
Mobile App
Customers can keep track of their points, offers and deals.
Branded Keytags
Branded tags that double as gift cards.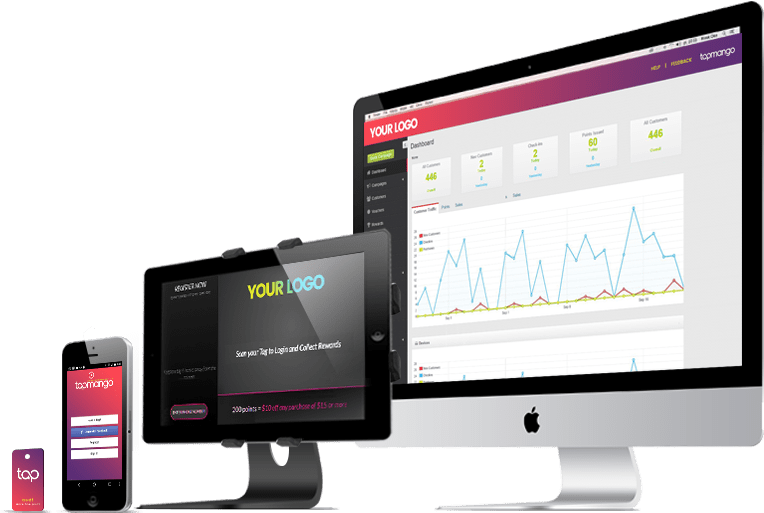 Bring Customers Back More Often
Flexibility and fully customizable loyalty program that incentivises customers
Send promotions over SMS, mobile push and email to get your customers back in store sooner and more often.
Control offers, coupons, customer experience and more.

Acquire New Customers
Customers can share images on facebook in-store directly through tablet.
Automated viral friend referral system
Increase the quantity and quality of Yelp/Google reviews through automated surveys.

Generate Untapped Revenue
Offer instant deals, allow your customers to prepay for products via text.
Flexible reward structures.
Smart points that can be redeemed for whatever you decide.
Create "happy hours" for your customers where items are on sale for only specific time ranges
What our customers are saying.

Danielle Carver
Buddha's Bazaar
Director of Operations
 I love the customer interaction, the flexibility in design and the immediate assistance I receive from Tap Mango reps.



Christina Smith
Critters N Things
Manager
I love how it is tailored to my company. If I want to make a change, add a feature, or if I am just having trouble figuring something out, there is someone there to help me all the time! I have never had an unanswered question! There are so many different ways to reward your customers, from automatic texts when they haven't been in for a certain amount of time, to sending out specific promos and vouchers to get them back in sooner.
There are so many different things that you can do on a regular basis to keep customers coming back!



Doug K.
Woofur
Great customization features and excellent customer service!  I've been a TapMango user for about a year now and two things have changed about our business since then – 1) Increased customer engagement and 2) Improved efficiency for delivering promotions.   I love the fact that you can customize just about anything within the software, and if a feature does not exist, the technical department will try their best to determine a solution.
Any time I have an issue, the customer service agents respond instantly.  I would definitely recommend TapMango to any business looking to deploy a loyalty program that is constantly evolving to meet the demands and needs of its customers.



Phillip Thompson
Mastervapor
Owner
Very useful and intuitive system. Provides a great way to reward customers and keep them returning. There are also numerous other features that I haven't had the time to explore, but it's on the TODO list.



Matthew Wolfe
Pet Styles by Stacy
Shop Owner
100% Satisfied with how the program works for our clients and the support we get using it!
Easy to use, easy to add promotions and incentives. This has been such an amazing addition to our Dog Grooming Salon and our clients love the different options they can choose when saving and earning points. The key tags are nice, convenient and so simple to scan. Easy and great way for advertising on Facebook when our clients login using the tablet provided and adding pictures, comments to their profile about our services. The TapMango staff have been supportive with all my questions and help with everything from set up to support when ever I have any questions about anything to do with software or use.
Our clients love the program and are excited to scan in when they visit our Dog Grooming Salon and they feel they are getting a lot more now with our services. Easy to use, easy to set up and add or change deals and incentives when ever we like.



Stan Tracht
Environeers
Partner
TapMango has performed beyond our expectations. Customers love earning points!
We love the ease of use. Great value. Helps build a loyal customer base. Generates a lot of repeat business. It integrates with our POS system (Lightspeed).



Adam Smock
Bear Care Products
CMO & Co-founder
Very clean and easy to use with excellent support!
The software has a pretty simple interface as well as seamless integration with Square. I have found it extremely user-friendly and whenever I've had a question it was answered immediately.



MONICA COLE
Perfect Touch Med Spa
licensed esthetician
I love live chat. The support staff was so helpful. It is so convenient. I am not on hold waiting for someone to get to me. I got a quick response from the support staff. Even with my emails, The support staff is quick to respond. I like that we can send a quick campaign to our customers and it is very easy do.



Colleen Kriebel
Kriebels Custom Bakery
Owner/ Pastry Chef
This company is the best for reaching my customers on a personal level! I love TapMango. Very user-friendly! The customers love all the rewards and the ability to connect with them is my favorite thing about the program and the software. More customers and a unique way to communicate with them!