Online and Mobile Ordering for Restaurants and Retail
Allow your customers to place orders online or directly from their phone with no e-commerce involved. With the ability to load money on their e-wallet, pay by credit card and earn rewards for every purchase, you can continue servicing your customers during these challenging times. Want to learn more? Click the button below.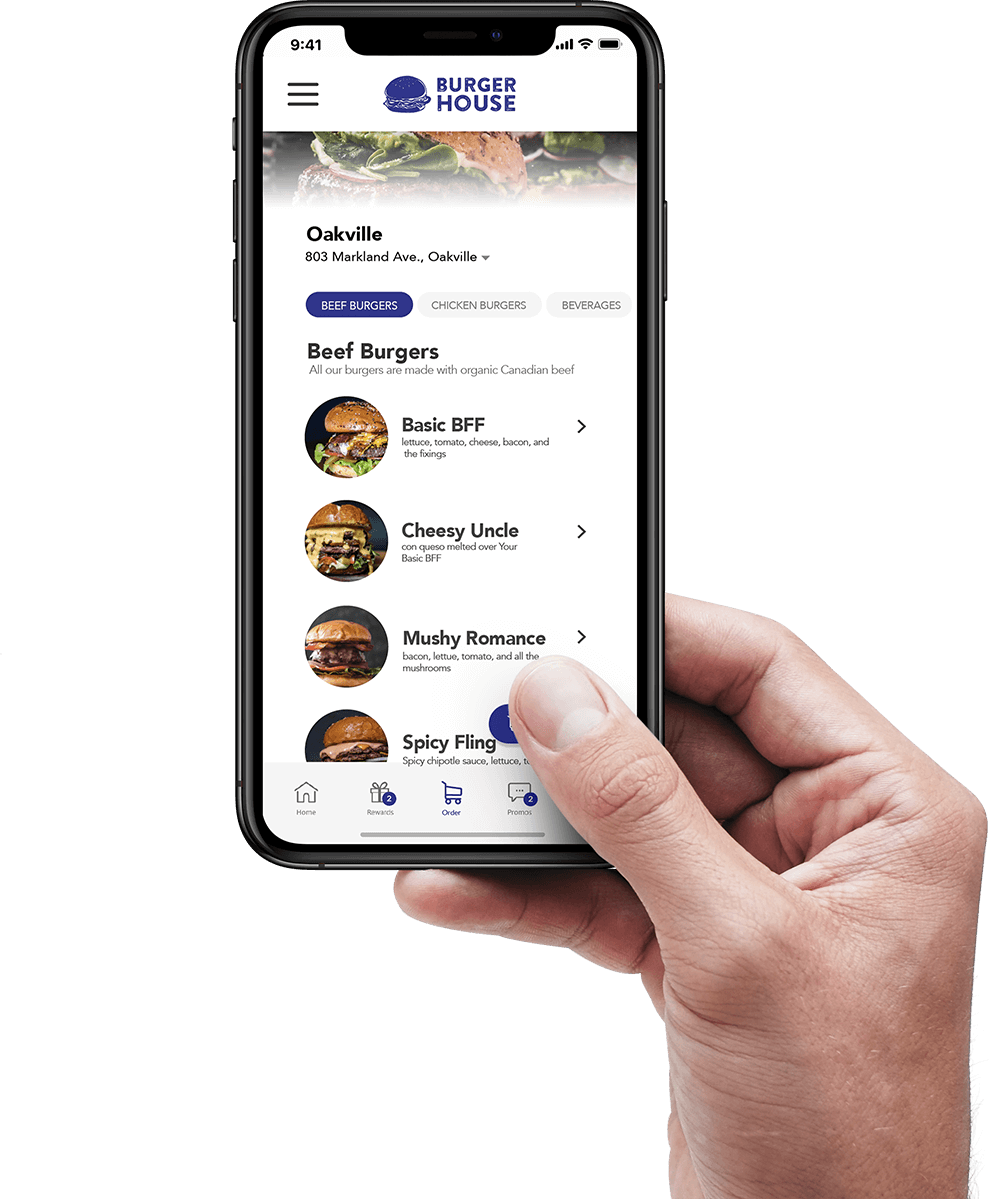 Trusted by thousands of businesses:
As a GetApp Category Leader, Top App on Capterra, and 4.9 Stars on Google, we are honoured to be the best customer loyalty and online ordering platform for small and medium-sized businesses. The reviews speak for themselves.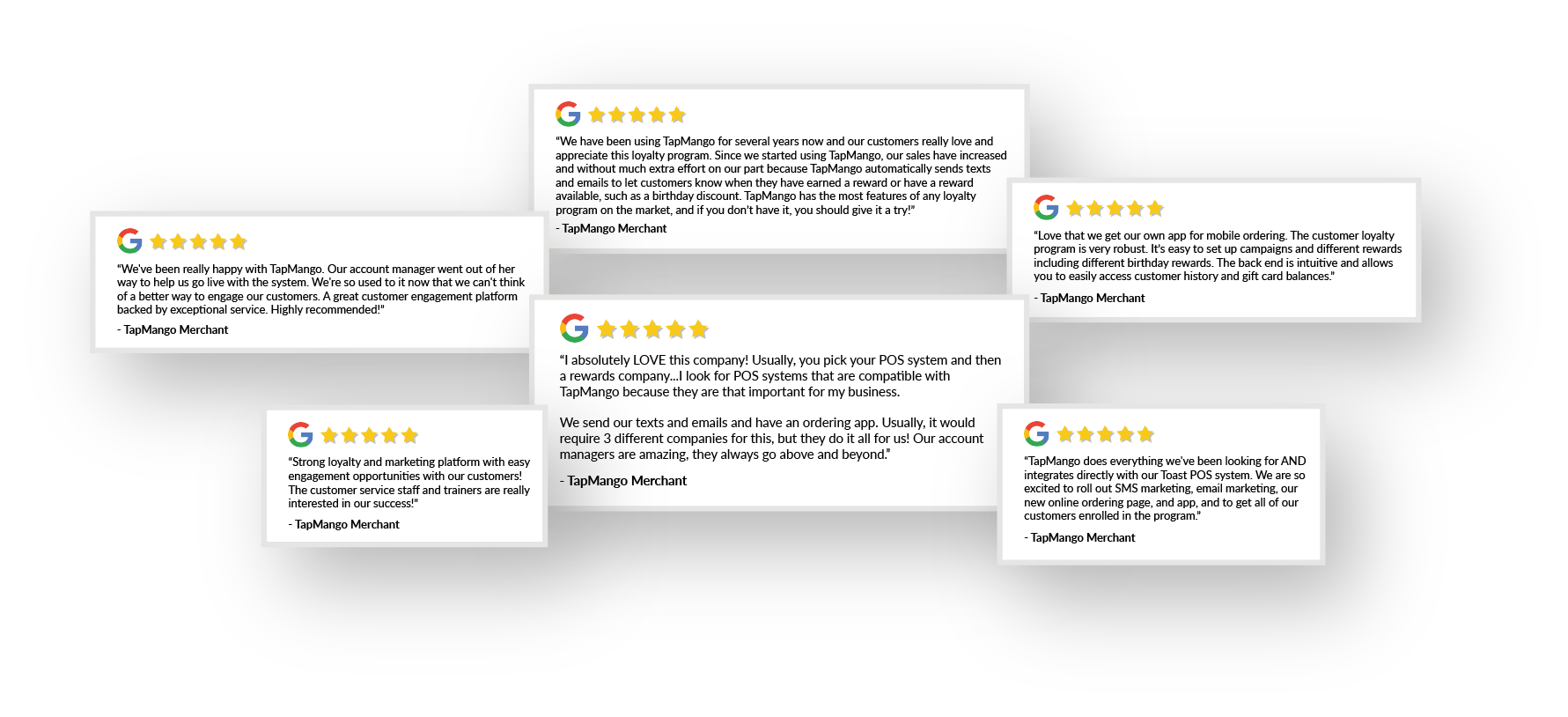 Here's what you get:
In the world of cutthroat competition, your customer loyalty is the top priority. The easiest and most cost effective way to build that loyalty is through your own Loyalty Program. TapMango provides you with all the tools you need to run a turn-key loyalty program on par with large retailers. And the setup only takes 30 minutes!  Here's everything you get with TapMango.

Marketing Portal
Manage your campaigns, customers and more through our easy to use back-end.
Customer Facing Tablet
Provides an amazing customer experience that your competitors will be jealous of.
Mobile App
Your own branded mobile app. Customers can keep track of their points, offers and deals.
Branded Keytags
Branded tags that double as gift cards.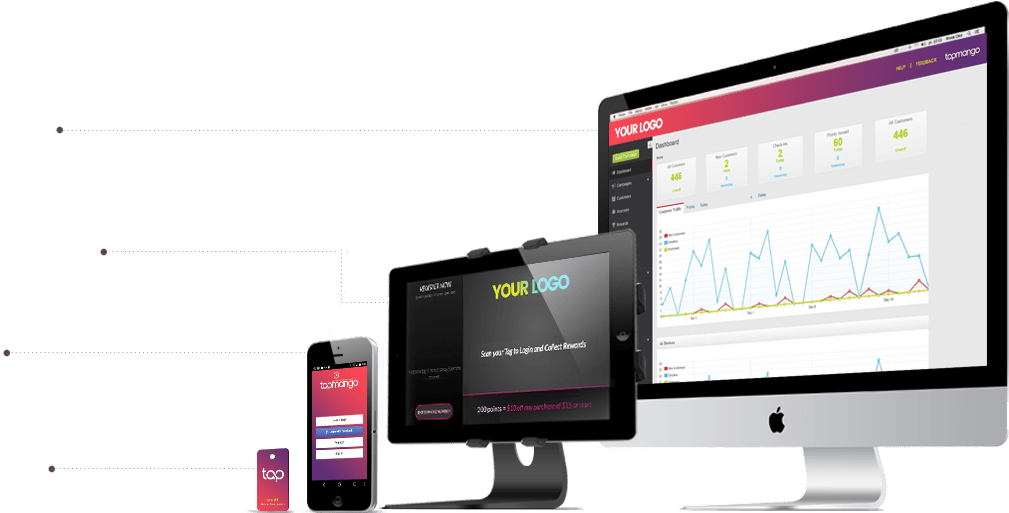 Partnerships and Integrations
TapMango's fully automated POS integration lets you start converting sales transactions into loyal customers. TapMango seamlessly integrates with all the major POS systems including Toast, Vend, Mindbody, Clover etc. and has partnered with many industry leading companies such as DoorDash and Square. TapMango can also work side-by-side with any other POS, and we can help get you up and running in minutes.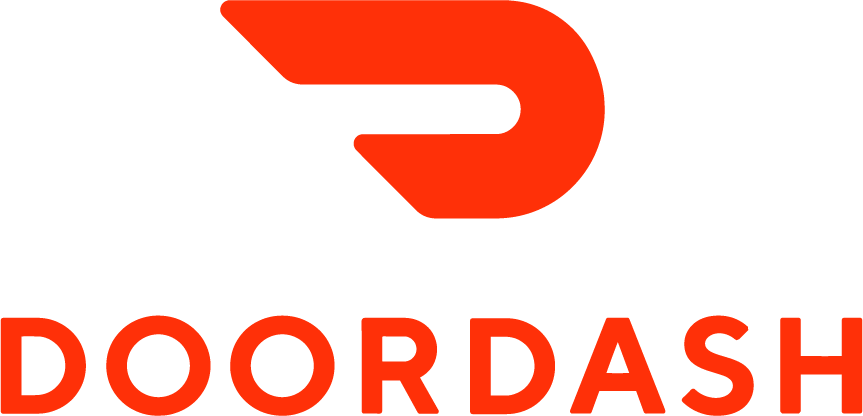 Marketing Portal
Manage your campaigns, customers and more through our easy to use back-end.
Customer Facing Tablet
Double as admin panel when flipped.
Mobile App
Customers can keep track of their points, offers and deals.
Branded Keytags
Branded tags that double as gift cards.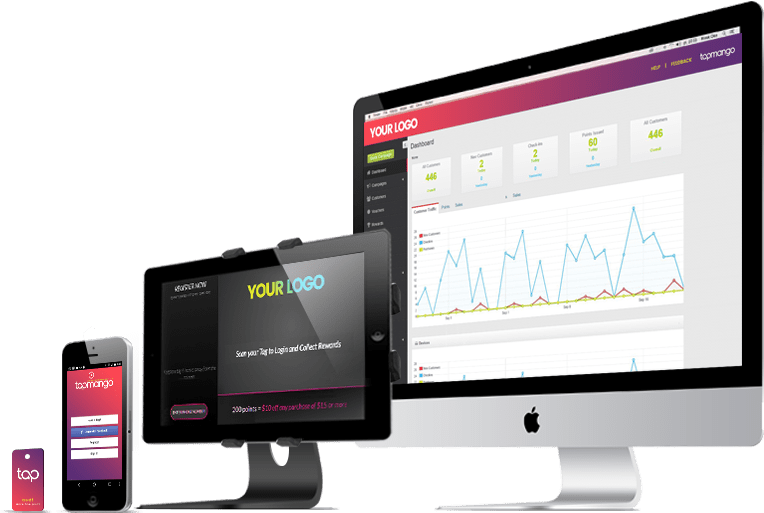 Bring Customers Back More Often
Flexibility and fully customizable loyalty program that incentivizes customers.
Send promotions over SMS, mobile push, and email to get your customers back in-store sooner and more often.
Control offers, coupons, customer experience, and more.

Acquire New Customers
Customers can share images on Facebook in-store directly through tablet.
Automated viral friend referral system.
Increase the quantity and quality of Yelp/Google reviews through automated surveys.

Generate Untapped Revenue
Offer instant deals, allow your customers to prepay for products via text.
Flexible reward structures.
Smart points that can be redeemed for whatever you decide.
Create "happy hours" for your customers where items are on sale for only specific time ranges.
What our customers are saying.
Chris Wilson
Chocolattes Coffee and Roasting - Fort Myers FL.
We have been clients for two years and it was one of the best moves I made with our business. They are always updating the platform. Very responsive! We never would have survived COVID without them!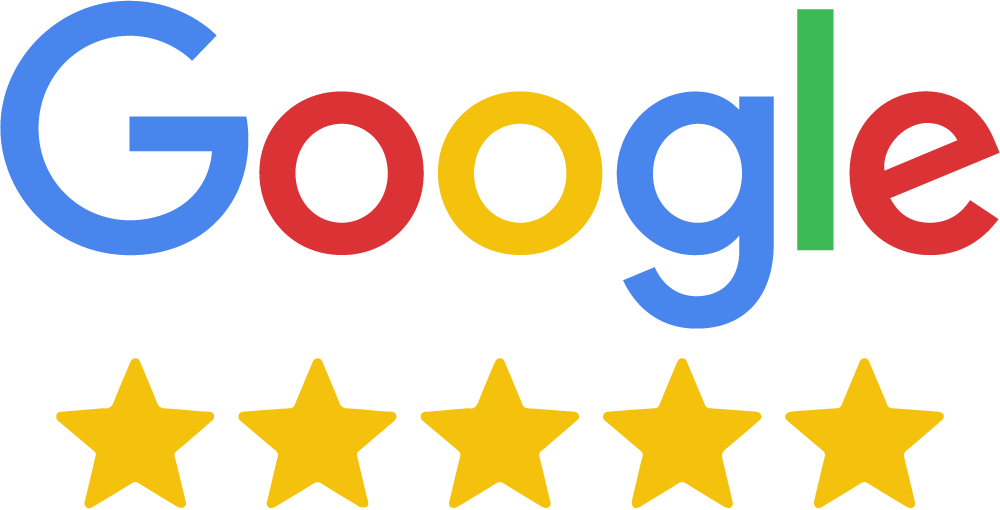 Ken Fearer
Nourish
TapMango has been amazing for our Nutriton Cafes. Helps generate new business as well as keep current customers coming back in. Also, support has been great. They fix/change things for us very quickly and are always trying to help us grow.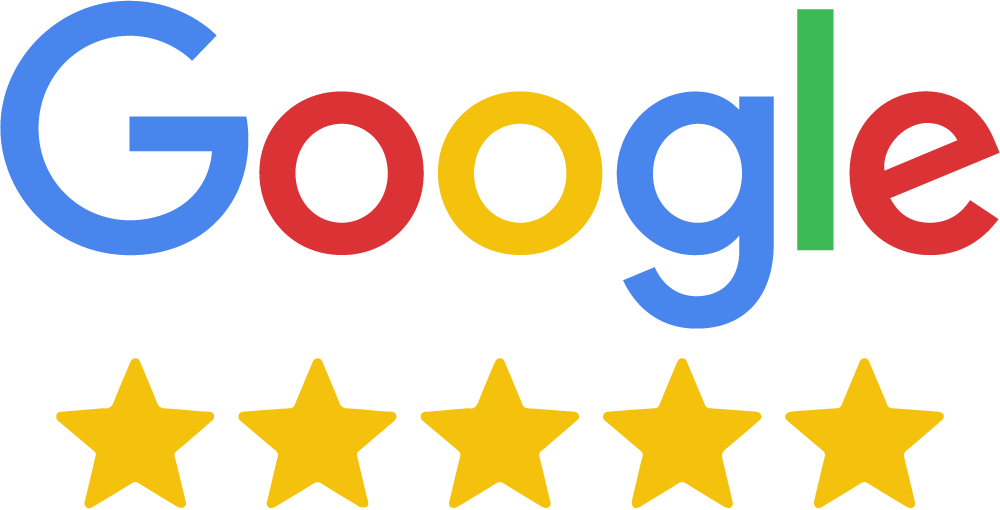 Nick
Botany Bay
This program is everything they say it is. It is beautiful and it branded to look like OUR rewards program. Changing customers information and rewards over from out old system to TapMango was a breeze. The reps are friendly and knowledgeable and made everything super easy. If you are looking for a nice rewards program with all the bells and whistles without paying a crazy amount, TapMango is for you!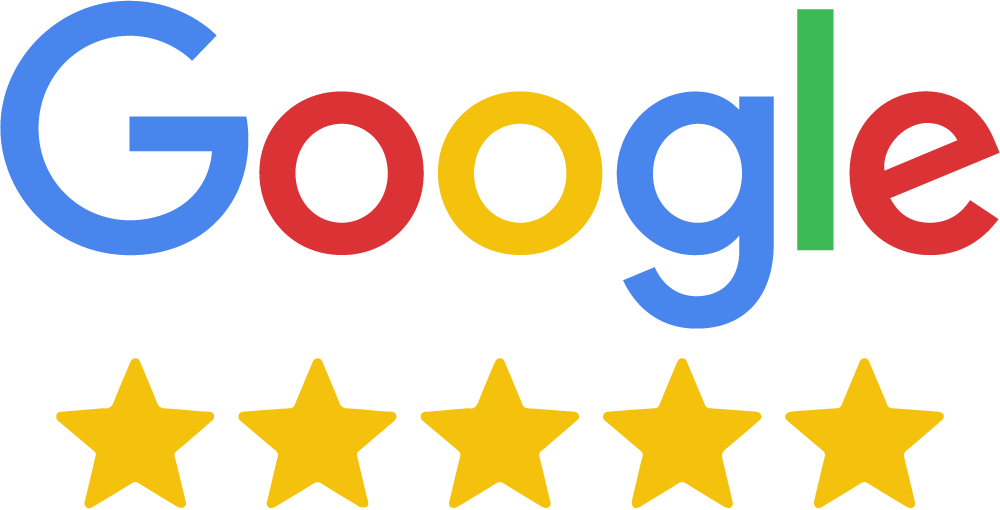 Jamie Bowman
Blended Smoothie & Juice Bar
TapMango has helped us improve our loyalty and rewards program hands down! The features allow us to market our business in a variety of new ways that weren't available through our prior provider. Our rep Faiyaz is always responsive and eager to help. When the Covid pandemic first hit Faiyaz reached out to us and set up our mobile and online ordering with in our phone call. Accepting online orders with curbside pickup was crucial during this time. I am happy to be a TapMango customer and I'm looking forward to what new features they will be adding.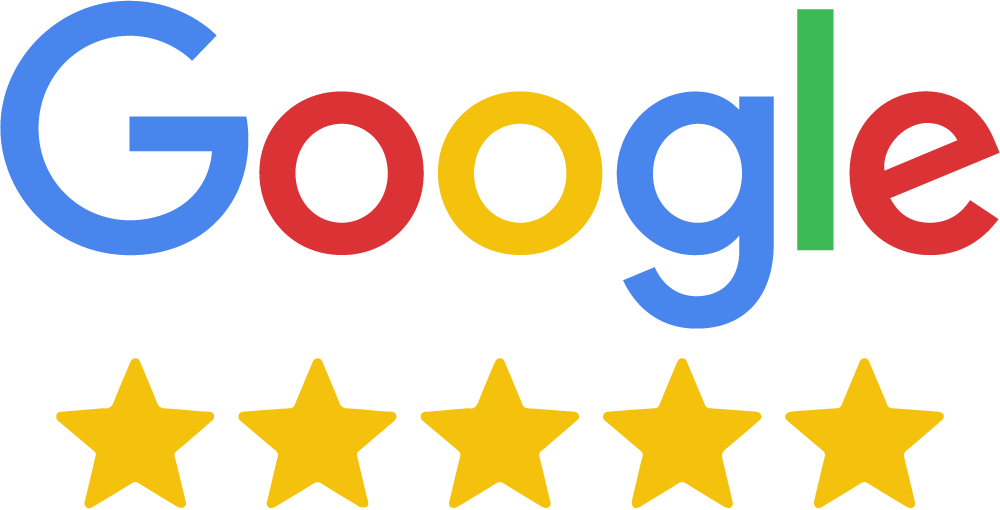 Kathy Weld
Zeb's Coffeehouse
Our customers love our rewards program and custom app through TapMango! Being a small, independent coffee shop, I thought a custom app and digital rewards system would be out of my reach. TapMango created a beautiful app for me! I am able to stay connected with my customers and increase visit frequency and promote items that I need to sell quickly. Their online chat support is FANTASTIC! I can get my questions answered quickly and easily. During the COVID-19 crisis, they have gone above & beyond adding the features and integrations merchants like me need to keep our business alive. Times of crisis really show a business's character…and TapMango is SOLID!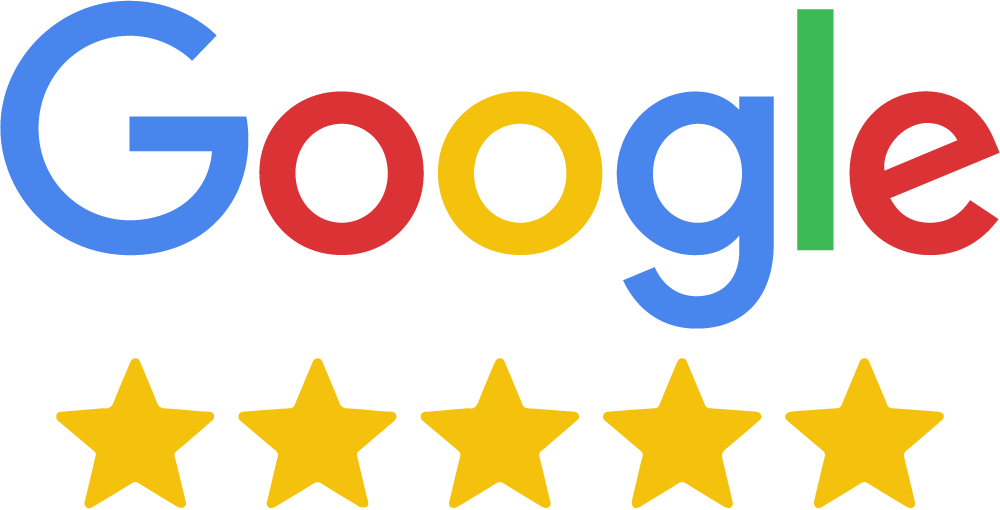 Shannon Weston
Vibe Foods
We have had a great experience! Just in the short time we have been a customer (4 months)- they have already rolled out new features to really help us keep our repeat customers engaged and coming in. Amandeep is our rep, and he is extremely responsive and helpful. He makes us feel like he cares about our business being successful. Also, I have utilized the online chat feature several times, and that is a great way to connect with any questions. I felt like it was a little intimidating at first, as the platform has a ton of features, but jump in, you won't regret it!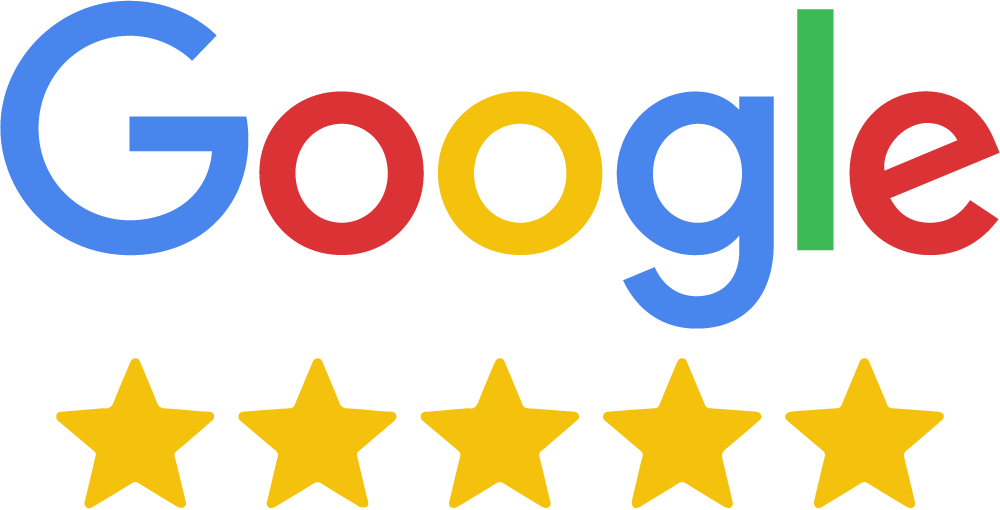 Hugo Cerqueira
Gelato-Go
I have an ice cream shop and I was waiting my first 3 months to write this review and I strongly recommend this reward pos system, last year I used the competitive reward POS and cannot complaint about it. At first I was kind of no way I would not change, but after the demonstration this reward program is totally integrated and automatic with my Clover merchant system. Many many features than the competitor and better price.
The support from Eric Ngo makes everything that I imagined/expected happened and he is always ready to explain and set up everything that I need no matter how many times and question I have.( Believe me, ALOT of questions).
My revenue are growing as my customers are returning this is what a rewards program supposed to do and this one is the best!