Humans of TapMango: Chris & Joe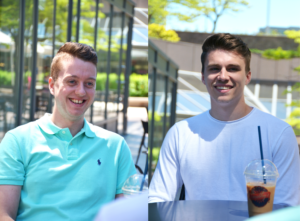 This month we sat down with two star members of our sales team – Chris and Joe. This dynamic duo has introduced hundreds of new businesses to TapMango. Read our interview with them and get an inside look at what it's like to work on TapMango's sales team.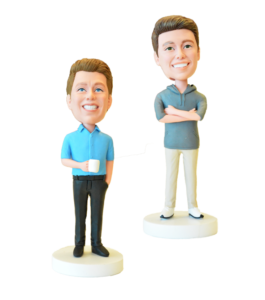 What are your roles here at TapMango?
Joe: Chris and I started out as account executives in sales. We just celebrated our one year at TapMango and now we both work as Senior Account Executives. It's been really fun growing in the company together.
Chris: We've been a good team since day one and now we have the bobble-heads to show it!
Tell us a little bit about yourselves. Any hobbies or interests?
Joe: I'm big into sports and Chris and I both play on a beach volleyball team on Thursdays. 50% win rate right now! I'm also pumped that the Raptors won the NBA Finals.
Chris: I'm definitely pretty active, anything outdoors like mountain biking. I also got into cooking a few years ago and now all I do is watch cooking videos on Youtube and try out pasta recipes on weekends.
Do the two of you have anything in common?
Joe: Okay so this is the big one. We both have the same birthday (June 10th), our dads are both named Mike and we both started in the same hiring class.
Chris: We also have a lot of mutual friends and I went to school with his cousin. We've also been desk buddies since day one. It's the classic 'Chris & Joe', we're almost like one employee!
What would you say is the coolest thing you've done so far?
Joe: I played a baseball tournament in Parma, Italy, home of Parmesan cheese.
Chris: Mine is definitely skiing. My family has skied almost every big mountain on the west coast of the US and Canada.
Aside from baseball and skiing, do either of you have a secret talent?
Joe: I don't know if I can prove this now, but if you ask me what year a movie came out I can tell you.
Reservoir dogs?
Joe: 1992
Chris: Madagascar?
Joe: 2005
Breakfast at Tiffany's?
Joe: 1961
Impressive! What do you work towards in your free time?
Joe: Working out and fitness mostly.
Chris: I've been dabbling in growing herbs, I'd love to eventually have a garden.
Who would you say is the most influential person in your life?
Joe: My parents, for teaching me how to be a better person.
Chris: My parents as well, just passing on their positive traits to me.
If you could have lunch with anyone, living or dead, who would it be?
Joe: Elon Musk, one of the most interesting humans on the planet right now.
Chris: I'm reading a book right now on Benjamin Franklin and would love to pick his brain.
Now let's talk about your experience at TapMango. What's the most memorable sale you've made in your time here?
Joe: I've sold to a couple local businesses, and I had the chance to swing by the Yoga studio I sold to and it was interesting seeing the product in action.
Chris: For me, since I grew up in Rock Hill, South Carolina, it's been really cool to call businesses there and sell to them.
What do you like about working at TapMango?
Joe: The people, the team leads, everyone in the company is very supportive. Even in different departments, it's nice knowing and mingling with everyone.
Chris: The company is always growing. Management is always open to feedback and ways to improve the company.
Are those factors what keep you coming to work everyday?
Joe: Yup! That and the positive energy and the hard work of the teams.
Chris: Yeah I probably laugh, at least a couple times, if not more everyday. Which I think is rare for most office environments. We have a cool "work hard, play hard" philosophy here.
What piece of wisdom would you pass on to someone who wants to join the sales team?
Joe: You learn a lot from talking to so many different people and it gives you a unique understanding of people and business that can be applicable in your everyday life. It's also very interesting because you're talking to business owners and getting real insights on what it takes to run a business.
Chris: It's definitely not an easy role, but you can learn a lot of skills in business and communication. Sales can be very rewarding if you're willing to put in the work.
Thank you Chris and Joe for sitting down and sharing with us. We couldn't picture a better pair of friends to feature this month! If you're interested in joining our ever-growing team check out our Careers page and stay tuned for our next edition of Humans of TapMango.