Humans of TapMango: Alicia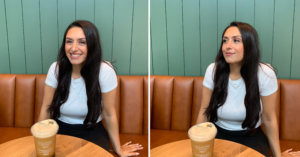 Meet Alicia, a well-travelled dog mom who has been shattering sales records since she started at TapMango. This month we sat down with her and learned about her favourite travels as well as her experience working as both an Account Executive and a Team Lead. Read the full interview below:
Tell us a little bit about yourself. Where did you grow up?
Well, I've lived in a lot of places. I was born in Singapore and grew up all over South East Asia – Hong Kong, China, Thailand. My dad was in sales then but I've been in Canada for 7 years and plan to stay here for a while.
That's really cool, any travels recently?
Yeah actually, I was just in Lake Como for one of my close friend's wedding. After the wedding, my boyfriend and I went to Budapest. Beer is really cheap there – $5 for two beers! Also some of the sales team just went to a cottage together this past weekend. It was a blast, lots of "team building", AKA beers.
What is your favourite place you've traveled?
I would have to say Greece. It's not the most interesting place I have been but my family is Greek and we have family there still so it feels like home. It's also so beautiful – the people, the water and the food!
So what would you say is the most interesting place you've been so far?
That would have to be when my family went to South Africa for my parents' 25th wedding anniversary. We went during Christmas break and on Christmas Day we woke up at 5am and went on safari! You have to get up that early to see the animals, before it gets too hot and they all find shade. My parents also renewed their vows on this trip and I was the officiant. It was a really fun and important trip with my family.
Do you have any pets?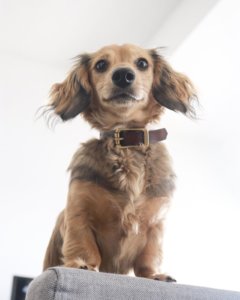 Yes, I have one son. He is my sun, moon and my stars. He is a weiner dog and his name is Ash. He is so cuddly and he has a great personality. I work from home on Tuesday and Thursday to be with him. Just so we can spoon.
What's something your colleagues don't know about you?
We do this in the sales meeting every week so I'm running out of things but I did go through a goth phase. Dark makeup, dark clothes, dark attitude. It really tested my parents. 
Speaking of the sales meeting, what is your role here at TapMango?
I am a Team Lead and Account Executive, so I handle incoming and outgoing calls, full cycle sales and help the team reach their goals. I have been with TapMango for about a year and a half but time goes so quickly here because I enjoy what I do!
Well, after over a year and a half what keeps you coming in everyday?
I really like making sales. I'm a competitive person, I did competitive sports growing up and have always enjoyed the feeling of making a good sale. But what I like about Tapmango specifically is the people and I know everyone says that but it's true. Everyone is so down to earth and kind, and management is really accommodating and works with you if you have any personal issues or need to work from home because you have a new dog. This means a lot to me and allows me to do my best work.
What's the most memorable sale you've made in your time here?
All sales are special for different reasons and I would say my larger sales are memorable ones but the ones that really stick out to me are the ones that take a lot of selling, the ones I had to work hard to close. To really sell someone on our product and demonstrate the value of TapMango for their business is so rewarding. That's what I would consider my most successful type of sales.
Cyber Yogurt is one of our key accounts and I worked hard for that sale. They were with a competitor and the owner Pablo knew what he wanted so he gave me a real run for my money. I did my job in assuring him TapMango would be worthwhile and now he is killing it with our program.
What piece of wisdom could you pass on to someone who wants to join the sales team?
Stay hungry, if you really want something, you have to work for it. You can tell that people who sell the most really want to be good at their job, they work hard and put in the time. But on the other hand, don't take things too seriously because the job can be challenging sometimes so just do your best work and make the call because the next call could be "the call". Always make the call!
Thanks for the words of wisdom! We had a blast chatting with you Alicia and we can't wait to see all the amazing things you'll accomplish here at TapMango!
For those interested in becoming an Account Executive like Alicia, check out our careers page for more info.