Humans of TapMango: Jess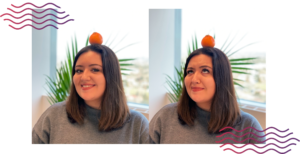 The woman, the myth, the legend. This week we sat down with our sales powerhouse Jess to learn more about her passion not only for TapMango but for comedy, Hamilton and Matzo Ball Soup. Read all about our people-person, problem solving, Master of Conversation in this month's installment of Humans of TapMango. 
Other than living and breathing TapMango, what do you like to do in your spare time?
I'm a comedy junkie. I've been to comedy clubs at least 60 times and I watch stand up comedy whenever I'm at home. My grandma and dad have this comedic genius gene that was never passed down to me but I can't go a day without humour. 
I should also mention I spend a ton of time learning things I should have learned as a kid. I'm currently taking swimming lessons and I'm proud to say I no longer need a noodle to float. And I love all the cliche stuff you would put on a dating profile, like cooking, traveling, walks on the beach, exercising, playing with dogs, entertaining guests.
Comedy and cooking, that's a good combo. What's your favourite thing to cook when entertaining?
I just love cooking for a crowd, especially loved ones. I get a kick out of figuring out people's dietary preferences and seeing what I can make for them. It's a fun challenge if they're vegan or allergic to everything… is that cruel? I'll just say Matzo Ball Soup- crowd favourite. 
What's something your colleagues don't know about you? Slash any hidden talents?
I'm able to recall verbal conversations for much longer than anyone wants me to. If you want to test this, just ask what we spoke about the first time we met. So the first time I spoke to you, I was fan-girling that you were from Hamilton, my favourite city. But our first real conversation was over how expensive couches are, when we went bowling. Ask me in 2030, I'll still remember this, sadly. 
Also, I'm an expert at balancing oranges on my head. Wanna see?
 
Wow, that's amazing but I have to ask, what do you like about Hamilton? 
It's not a judgmental city, everyone smiles, opens the door for you. There's also a level of hedonism that is celebrated in Hamilton that I don't find anywhere else. They host Art Crawls with amazing art, music, and shopping. The food scene is amazing, they have the best farmers market and independent shops, not to mention the great hikes and waterfalls just outside the city.
I love that you love Hamilton but getting back to your talents, what is your role here at TapMango?
I direct corporate accounts and partnerships. I love partnerships because I get to develop deep relationships with the best merchant technologies in the world, and it takes our customer's success to the next level. I love my corporate accounts because they take so much pride in maintaining excellent standards. It pushes me to be my best, because you need to always deliver a beautiful, seamless, highly customized, and extremely effective product to so many different business types. I also help direct the sales initiatives.
When did you start at TapMango and what was your position?
I started as a Business Development Representative in 2015, when I graduated university. This was supposed to be a six month gig, I was on my way to law school…and then I fell in love with absolutely everything about this company.
Well, after four years what keeps you coming in everyday?
A lesson I learned the hard way is if something amazing is in your life, don't let it go just for the sake of change, and I find my career amazing. TapMango isn't just my dream job, but helps me live my dream life. I get to be with the best people everyday- everyone is so mindful, funny and extremely supportive- we are literally a family. I also get to work in an environment that I help mould without the gross feeling of hierarchy. There's no ego with the founders, they just want to improve everyday, and that means everything to me. I also get to be myself, I feel appreciated, well compensated, I get flexibility to work from home (or in another country), and I don't feel any of the traditional complaints many people have about work.
That's inspiring to hear, especially in our culture of discontent its important to appreciate and stick with a good thing. What piece of wisdom could you pass on to someone who wants to join the sales team?
We were all born with a deep ability to connect to other humans and problem solve. If you're willing to really explore those aspects of yourself, you will have what it takes to succeed and will have fun doing it.
Thanks for the words of wisdom! It's been a blast chatting with you Jess and we look forward to seeing all the incredible things you will accomplish over the next four years at TapMango! 
For those interested in joining our team, check out our careers page for more info.