Humans of TapMango: Amandeep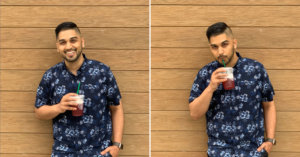 This month we're featuring a star member of our Customer Success team – Amandeep! He originally started in the role of Client Support Representative and has recently been transitioned to Customer Success Manager, where he helps onboard new clients every day. Read all about Amandeep's love for sneakers, Stranger Things and tacos in our recent interview with him.
When you interviewed at TapMango, what was it that drew you in/sold you on the company?
What drew me to TapMango right off the bat was the culture here. The moment I walked in and as soon as I began speaking with other employees it became clear what the culture at TapMango was like and you could tell from their genuine conversations that everyone loved working here.
Since you've had both roles since working here, what are 3 characteristics that you need to be a good Client Support Representative or Customer Success Manager?
Be patient
Be able to think critically and problem-solve
Be a good listener
What are some aspects of your role that you really enjoy?
I think making an impact on a merchant's business and helping them grow is important to me. Creating relationships with unique business owners around the world in all types of industries and being able to offer solutions to their problems. It can be really rewarding.
What's a skill you're hoping to learn or master in the next 5 years?
I have been working to improve my graphic design skills. I have always been captivated by the world of marketing and majored in that in my post-secondary education. But lately I have wanted to learn more about the creative side of marketing and get better at using professional tools to bring my creative visions to life.
What's something your colleagues don't know about you?
They probably don't know how much I enjoy movies and everything that comes with a movie-watching experience. From action movies and rom-coms, to the smell of freshly popped popcorn smothered with butter, I love it all!
Do you have a favourite movie?
That's tough because I don't like watching the same movie twice but if I had to pick one that I've seen recently that was good, it would be Spiderman: Into the Spider-verse. I'm also a big fan of Stranger Things. 
If you could have one item from Stranger Things, what would it be?
Easily that would be Lucas's slingshot. I have never owned a slingshot before and when I was a kid watching cartoons and Dennis the Menace, I always wanted to break things with one!
Would you rather live in the past or in the future?
I would definitely want to live in the future! As a kid I read books about how we would have flying cars by now and although we haven't come that far in terms of technology, I would love to live in a futuristic society where technology is capable of doing so much more than what we can already do now!
Rumor has it you're a sneakerhead. How did this hobby come about and how big is your collection? Do you have a favourite in your collection?
I would say I became a sneakerhead about 6 years ago! I can't remember exactly how it began but I remember there just came a time where I just noticed people's shoes more and the more I saw different sneakers, the more I had to have them. 
I currently have about 40-50 pairs of sneakers, I give that range as it has been awhile since I did a count. From low tops to high tops, from Jordan to Adidas, there is a mix of different sneakers in my collection. It's hard for me to choose a favourite but my favourite type and silhouette for a sneaker would be the Jordan Retro 1. I have about 15 pairs alone in that style because I love the design and versatility that shoe brings to my wardrobe.
Would you rather be barefoot for the rest of your life or wear Crocs for the rest of your life?
As a sneakerhead this question pains me. I would have to go with wearing Crocs for the rest of my life. I would have to try my best to make them some sort of fashion statement and making them look cool because walking barefoot through life sounds uncomfortable.
If you had a full day off, what would you do?
If I had a full day off, I would try to have a whole day of trying new things. I would try a new restaurant that may have opened up in my neighbourhood or go watch a new movie that just came out.
Speaking of restaurants, what's a food or cuisine you've been obsessed with lately?
I have been obsessed with tacos lately! As simple as tacos can be, I have been able to try taco-inspired creations from various and culturally different restaurants that bring their unique spin to traditional tacos. From Thai-influenced, to Indian-influenced, it's amazing what you can find within the Greater Toronto Area.
Lastly, what are some words of wisdom you would share with 13-year-old Amandeep?
I would tell 13-year-old Amandeep to never give up on anything that strikes you with passion. Being passionate or curious is a good thing and you should always pursue that interest with full effort without holding anything back.
Also, a good sneaker can make an outfit. 
Thanks for sharing your words of wisdom with us and we're thrilled to have you in the TapMango family. Stay tuned for more installments of Humans of TapMango!