Humans of TapMango Podcast: Daniel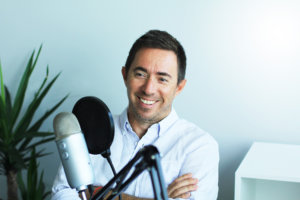 Daniel Talas, technical wizard by day, musician by night. This month for Humans of TapMango we decided to spice things up a bit by making our interview, with Co-founder and CTO Daniel Talas, into a podcast. Please take a listen or read below as we learn more about the origin of our company, the industry in which leads and its intrepid leader. 
Alright, let's dive right in, what is your role here at TapMango?
As a co-founder, you get to wear many hats.  I split my time between many roles. First comes the product.  This includes managing the product roadmap, architecture and infrastructure.  And when I behave, they let me write some code :). Then comes Customer Success, ensuring all teams are aligned with one goal in mind, helping our merchants get the most value of our product.  Then there is marketing strategy, finance, partnerships, and the list goes on. Never a dull moment.
Why did you start TapMango? What's the origin story?
It started with one business owner asking to develop an app for their restaurant.  Not really an app, but a small feature, they wanted their guests to leave a review on Yelp at the restaurant.  But after a few conversations it became obvious that they really didn't want their guests leaving the restaurant without the owner having some type connection to that guest.  We call it a tether. And that was the basis of our product, enabling retailers to connect with their customers. Because if they don't, they may never see that customer ever again.
Then we quickly realized that this problem exists across both restaurant and retail segments. So, we built a working prototype, went door-to-door demoing it to potential retailers, they were all over it.  It really solved a pain point for them.
So that's how it started.
Outside of TapMango, what do you do for fun?
I play in a band.  We are a rock/blues cover band named King West. We've been playing consistently for 6 years now.  We play in bars across the GTA. Aside from that, I constantly learn.  Whether it's new technology, or new marketing strategy, you gotta keep on top of things all the time.
What's something your staff don't know about you?
I started my career in Sales.  I was selling purses in an outdoor store in Rome Italy when I was 16.  Really taught me to hustle. A year later I got a job at a small funeral home south of Rome, just to be closer to where we lived.  Didn't realize the entire open casket for 3 days culture in Italy. It was interesting.
What is something that has surprised you about the customer loyalty industry?
Few things.  First, How much impact customer loyalty can make on someone's business.  We calculate how much money our platform makes for the store. We call it Revenue Boost.  So we love plowing through the numbers, and we see instances where our platform makes thousands of dollars a month for a single store.  That's just the best feeling and super rewarding.
Another thing that surprised me is how quickly the industry adapted the technology, both physically and mentally.  What I mean by that is more and more merchants become super sophisticated in how they want to run their rewards programs.  And what we did right off the bat is listen very closely to specifically those merchants, because with their help we could continuously innovate.  And the result is pretty obvious, we've got the best, most sophisticated and most feature rich rewards program on the market. 
And last, how many different industries can benefit from customer loyalty.  We even have churches using our product!
What is one thing you have learned about owning/running a business?
That you can't stop learning.  That you can't stop innovating.  That your business is only as good as your team.
What element of TapMango are you most proud of?
Definitely the staff.  Everyone is on the same page, and everyone is super passionate about what they do.  That's priceless.
And a special shoutout to our development team.  I can't believe how much we achieved with such a small team, those guys are incredible.
What is your vision for the company for the future?
We have a moto, "give merchants superpowers".  That's our mission statement. It's not a goal, but a continuous progression.  Which means that we always must innovate, always find ways to superpower our customers.  Continue focusing on small businesses, as they are at the heart of any community.
And we have some very interesting projects on the horizon, but perhaps we can talk about them some other time.
What piece of wisdom could you pass on to someone who was hoping to start their own business?
Be prepared to sweat.  Be prepared for ups and downs.  Be passionate about what you do.  And be in it for the long haul.
How would you describe your leadership style?
I don't think I have consciously chosen a particular style.  But I strongly believe in empowering the teams to be the best they can be, and leading by example.  If you show passion, your team will show passion. If you innovate, your team will innovate.
Last but not least, where does the name 'tapmango' come from?
So one day I was eating a mango …. No, nothing like that.  Our original product design required an NFC tap on the tablet, which we abandoned very quickly.  But the word "tap" stuck. And then we wanted something friendly and easy to remember. Apple was already taken.  So we went with Mango.
Thank you so much Daniel for sharing a bit about your life inside and out of TapMango. We had a blast chatting with you and are honoured to be a part of the family here. We can't wait to see what the next 5 years will hold!
For those interested in working with us please check out our careers page for more info and if you are a business owner looking for a 5 star customer loyalty program click the Request a Demo button in the top right-hand corner of this page.